Fighting the Good Fight
Fighting the Good Fight
"Receive every inward and outward trouble, every disappointment, pain, uneasiness, temptation, darkness and desolation with both hands as a true opportunity and blessed occasion of dying to self and entering into fuller fellowship with thy self-denying and suffering. Savior. Look at no inward or outward trouble in any other way. Reject every other thought about it, then every kind of trial and distress will be the blessed day of thy prosperity." – William Law

Count it all joy, my brothers, when you meet trials of various kinds, for you know that the testing of your faith produces steadfastness. And let steadfastness have its full effect, that you may be perfect and complete, lacking in nothing. (James 1:2-4)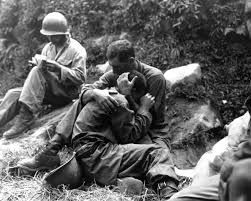 This is easier said then done. I look at such exhortations from the word of God and from men of God who have proven themselves by fighting the good fight of faith to the very end of their lives. They have left behind such words of exhortation for us who would like to follow in their footsteps as they followed in Christ's and die victorious in our faith saying:
I have fought the good fight, I have finished the course, I have kept the faith; in the future there is laid up for me the crown of righteousness, which the Lord, the righteous Judge, will award to me on that day; and not only to me, but also to all who have loved His appearing. (2 Tim. 4:7-8)
I find myself asking lately, is it really possible to live such a life that trusts in God so fully and completely that when adversity comes wave after wave after wave that we can be unmoved by it? I am reminded of the woman in Proverbs 31 who laughs at adversity when it comes because she has prepared her household to weather its storms. She sits in comfort inside while it storms outside and others panic.  Is it possible for us to prepare our hearts to have such strong walls of enduring peace that cannot be shaken or penetrated by fear or doubt? It is possible for us to sing the song of the righteous that are unmoved in our hearts by fear and despair? Is it really possible for us to enjoy God's promises of peace in adversity?
The past three years have been  years of intense adversity for my family. Difficulty after difficulty. Grief after grief after grief. Shock after shock. Disappointment after disappointment. There have been a few great emotional heights of new marriages and new births but even their joy seemed to have been somewhat restrained because of the depth of grief at times that we have been living in. If our life was portrayed as a song right now I can see it as low and deep melody.
Dealing with grief this past year has been one thing, dealing with adversity and disappointments has been another. It has seemed like Satan doesn't fight fair. He attacks when you are down. He doesn't wait or give you time to heal before the next attack come. Dealing with adversity while you are already grieving is like being severely injured with a major hole in your chest and trying to fight for your life in a war. It takes sheer determination and resolve sometimes to perform your daily duties and routines, encourage others to keep moving forward, to keep trusting God and to fight the good faith of faith all while it hurts to breath. Many days you just want to retreat, you don't want to play anymore, you want out of the game that doesn't seem to play fair. I don't know how many times I have cried, it's too much! It's just not fair, Lord! It's not fair!
Then I am reminded, war is not fair. It is fairness and justice that we fight for when injustice hits us in the gut.  If the world was fair, there would be no need to fight. But it isn't. That is why faith is so important to remember that we are in a war.  We fight for a world where evil no longer reigns. A world where death and diseases no longer exist. We fight for a world ruled by 100% justice and peace all the time, a world where joy can never be diminished, where peace can never be disturbed where love is never contaminated by sin but is holy, pure, good and right, where loved ones can never be lost. We fight for a world ruled by Jesus Christ himself who will be victorious in the end. He will one day be enthroned not only in our hearts but over all our cities. We encourage others despite their circumstances to never give up this hope, to never give up their confidence in God and his ultimate victory.
Maintaining our faith, our confidence in God during times of intense grief and adversity is an outright war. This is where the Kingdom of Heaven, the promises of God, clash with great intensity and great force against the Kingdom of the World. One trying to destroy the other. What we don't always realize is that this great war is in us, inside our hearts and minds as we struggle to remain faithful and hopeful in God in hopeless situations and in the darkest of times. It is inside our hearts and minds that this war is won and lost every day when our faith overcomes and when it fails. It is unseen battle, though not unfelt by us. Our entire world is shaken internally when our faith is violently attacked by the forces of hell as all God has promised us comes under fire in our hearts and minds. Did God really mean that the serpent still whispers?
The enemy would have us believe God is untrustworthy, unwise, uncaring and inattentive to our cries. The enemy would have us to believe that our confidence in God is mad. He would have us believe that we should instead trust in ourselves, our own reasoning to save our lives. We after all have our own best interests at heart right? What does God know? If He was here that would be different, he isn't here, we are and we must act in our own best interests not God's. That is what the enemy would whisper to have us follow him instead of God. Why does God even allow him to speak to us? Why does God allow war and such adversity into our lives?
It may be difficult to acknowledge for those who hate conflict and believe that God would have us only know peace, but God would have us know war as He once caused the Israelites to know war.
 Now these are the nations that the Lord left, to test Israel by them, that is, all in Israel who had not experienced all the wars in Canaan.  It was only in order that the generations of the people of Israel might know war, to teach war to those who had not known it before. These are the nations: the five lords of the Philistines and all the Canaanites and the Sidonians and the Hivites who lived on Mount Lebanon, from Mount Baal-hermon as far as Lebo-hamath. They were for the testing of Israel, to know whether Israel would obey the commandments of the Lord, which he commanded their fathers by the hand of Moses. (Judges 3:1-4)

The Lord is testing our faith, as he once tested the Israelites to see if we would obey Him, if we would love him against all odds. War is intended to strengthen our faith not to weaken it. I read a great devotional the other morning by Watchman Nee about being spiritually fed and fattened by giant difficulties and obstacles that come at you one after another. It used Caleb and the Anakites in Joshua as they entered the promise land but they had to conquer giants first. Caleb called the giants their "bread" from God meaning they were going to devour these giants and increase their strength through them and be nourished by them. The greater the giant, the greater the feast before them. Watchman Nee's point was that we grow spiritually strong when faced with one difficulty after another. Our strength increases whereas if we did not face difficulties we would quickly become spiritually feeble, weak and malnourished.
Adversity is never easy to deal with. I don't think anyone can go to war and never be knocked down multiple times, never be shot at, never be injured in any way, never be tempted to run, never scream, never weep. I don't think anyone can go to war and say they have been to war and that they are warriors who have not endured war and all it's grief's. But they can maintain their confidence in who they are fighting for and what they are fighting for. In this they can stand firm and not be shaken in their resolve to stand back up and to encourage others to stand back up for God and to keep enduring and trusting in God in his ways and his outcome. Soon we will have our own war stories to share, to remember and to rejoice in about God's faithfulness to us and how He enabled us to overcome the greatest of obstacles though our not giving up our faith in Him.
For the righteous falls seven times and rises again, but the wicked stumble in times of calamity. (Proverbs 24:16)
The truth is maintaining our faith is war. It is attacked every moment of every day and it would be in our best interest to go before God every morning and seek to strengthen it before the heat of the day rises upon us remembering that "This is your day of trial and how much depends upon your obedience" as Richard Baxter once said.
We can enjoy peace in times of adversity and in grief but only if we are willing to do to battle to keep hold of our faith because we value it even more then our lives. We would be a people who laid our lives down before laying our faith in God down. Let the world call us fools if it would, but we know how the war ends, even if the battle is lost. To die faithfully, is to die victoriously. We look to the cross.
As our faith grows stronger through battle's won, many of the smaller battles become no battles at all to us due to our spiritual strength gained. It as like exercising our muscles. What once caused them to shake with much pain, now has little effect through the building up of them.  Our faith is no longer as easily penetrated as it once. We come to know God more through experiencing victory after victory as we come to know his faithfulness and become stronger warriers for it, fully equipped and able to teach the next generation the art of war.
Be on the alert, stand firm in the faith, act like men, be strong. (1 Cor. 16:13)