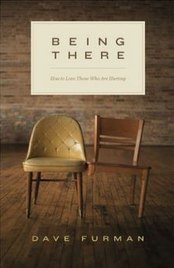 It's tough watching someone you love suffer and being helpless to help them or to know what to say. We always want to do or say something to lessen their pain, to encourage them and to help them. However, our good intentions can go awry and instead of causing less pain, we can increase anothers pain through insensitive words or timing. We have a tendency to say things that naturally come to us in order to comfort those around us. Our words may be true enough and bring comfort to ourselves but the person we are directing them towards may be caused greater additional pain by them instead of being comforted. Our words touch super sensitive areas of the heart that are bruised, wounded, out of joint, unnaturally exposed and bring others tremendous pain unknowingly to us. We walk away smiling and unfortunately leave those hurting behind grimacing from our efforts.
When dealing with the human heart, it takes precision and wisdom of an experienced physician to bring about comfort and healing. It has been said that some of our greatest traumas and battles are not really those we experience outwardly but those we are experiencing inwardly. Our hearts have been inwardly amputated through loss, they are being smothered by the weight of grief, are paralyzed by fear, are sick with anxiety and worry, are burning with anger, are infected with bitterness, are slow moving being clouded with doubts and confusion.
The word of God is our great physician and ointment for our hearts. I have found no greater comfort then I have found in the words and promises found in its pages, but I have also found no greater pain there also. It lays open the heart like a knife. It stirs up the confusion, pinpoints the agony, confronts the fear, challenges our strength to walk and to stand when we don't want to move. Doctors are both our favorite and our least favorite people when we are sick and in pain because they go to the heart of the problem and touch areas we don't want to be touched but need to be touched in order to be healed. Such is the word of God and when wielded appropriately it brings much needed comfort to our hearts like an oitment but when wielded inappropriately, it brings much pain like an inexperienced doctor poking around in off limit areas.
"For the word of God is alive and active. Sharper than any double-edged sword, it penetrates even to dividing soul and spirit, joints and marrow; it judges the thoughts and attitudes of the heart." – Heb. 4:12
Many Christians with good intentions swing the word of God before them, like a young 9 year old child picking up his daddy's sword for the first time, ready to slay all the dragons like his experienced daddy. He knows this particular sword is quite powerful and capable of healing, protection and bringing about freedom for the weak. However, he must be trained to handle it appropriately to defend the weak. Otherwise his audacious swinging maims the hurting further instead of bringing about the precise strike and cut that is intended to set their hearts free of its confining ailments.
"Study to shew thyself approved unto God, a workman that needeth not to be ashamed, rightly dividing the word of truth." – 2 Tim 2:15
I recently finished a book a few weeks ago that really did a great job of explaining how to be there for the hurting. It is simply called "Being There: How to Love Those Who Are Hurting" by Dave Furman. Dealing with life long chronic pain himself, Dave Furman shares his own personal experience and offers encouragement and support to those who are hurting or who are family, friends and caregivers of those who are hurting. I especially enjoyed the chapter "Whatever you Do Don't Do These Things". I recognized many of the items he listed and remember what encouragement or what additional pain they had brought me.
Don't Be the Fix it Person

 Don't try offer a solution to their problems
Do listen and try to understand their problems

Don't Play the Comparison Game

Don't share what you or your cousin went through in a similar situation
Do try to understand what they are going through in this situation.

Don't Make It Their Identity

Don't talk about their suffering all the time
Do draw their eyes towards Christ for eternal perspectives

Don't Promise Deliverance Now

Don't promote a false gospel of a life without suffering in a world of suffering
Do point them to God's presence and future hope

Don't Encourage Them to Just "Move On"

Don't disregard or minimize their earthly pain and confusion
Do allow them to grieve, to weep and to have no answers

Don't Bring on the Inquisition

Don't look for fault or a reason for the circumstances
Do mourn with them  and acknowledge that the world is not the way God designed and ask them how they are doing today.

Don't Be Hyperspiritual

Don't try to explain what God is doing behind the scenes
Do acknowledge that we don't always understand the ways of God they are higher then ours but he is a holy and good God at all times and in all his ways.

Don't Play the Avoidance Game

Don't ignore the persons pain
Do acknowledge their pain, especially on important dates and events

Don't Pledge General Help

Don't wait for them to ask for help and add a further burden by expecting them to come up with a way for you to help and to have to ask for it.
Do offer assistance in a way that is easy to accept, especially as time goes on and less people are offering assistance

Don't Condemn Them

Don't tell them if they only had more faith things would be different
Do help the person explore their spiritual health
This is an extremely gospel centered book filled with practical counsel on how to help those who are hurting around you. In traumatic situations it is often difficult to know what to say, to know what to do especially when you feel so confused and powerless yourself. This book is for every Christian and church member, because in a world full of suffering and pain, we are all called to be caregivers to those around us, to proclaim good news to the poor, to bind up the brokenhearted, to proclaim freedom for the captives and to release prisoners from the the darkness. Our fathers sword and  his strength is our only weapon, but we need to train ourselves constantly to wield it appropriately.

Start reading this book for free: http://amzn.to/2cPLaeB