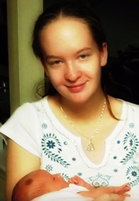 A year and a half ago, on March 23rd, 2014 my cousin Tessa, age 27, was killed in a head-on collision by a drunk driver as she was on her way home. She died instantly leaving behind 4 surviving children. The criminal case for it ended just last week.
Her death has impacted our entire family greatly, and still impacts us every day with the loss of her laugh, the loss of her voice, the loss of her opinion, the loss of her touch, her hugs. Every day, it still feels like there is something new to be missed and freshly grieved. Every day is full of her absence, in the big things and in the small things.
My husband  and I relocated to Dallas 16 years ago not knowing we had any family in the area.  Approximately 5 years after our move, I was excited to learn I had an Aunt and three young cousins who lived nearby. They were as hungry for family as we were and soon joined our weekly Sunday lunches after church.